HTC EVO 3D Unboxing
65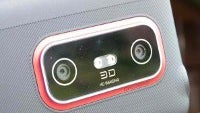 The eagle has landed, and boy the timing couldn't have been any better considering that it has been a full year since the HTC EVO 4G made its debut on Sprint's lineup – ushering in the era of 4G goodness like no other. Not only that, but it has continued to be one of the most talked about phones in recent memory seeing that it's filled to the brim with chock-full of great hardware. Although it's not presented as its true successor, the
HTC EVO 3D
is nonetheless an improvement in many aspects, but more importantly, it brings the notion of
3D to the masses
– all of which will cost you
$199.99 on-contract when it's released June 24th
.
Strangely, not a single photo or image of the handset is seen on any portion of the packaging, but instead, we find imprints of the "EVO 3D" name and recognizable capacitive touch buttons directly on the front of the box. Besides that one distinguishable mark, there isn't necessarily anything alluring with the all-white packaging. The secondary box that the handset is sitting on is indeed colorful, but underneath that, we're only treated with the bare set of included accessories – these include the documentation, microUSB cable, and wall charger. Admittedly, we were hoping for just a bit more than the usual suspect of items – especially when this is the HTC EVO 3D we're talking about.
Needless to say, the original HTC EVO 4G was a beastly sized phone and didn't quite beat out the design of the HTC HD2 before it. With the HTC EVO 3D, it still shares some of the EVO 4G's design characteristics, but as a whole, it's mainly less bulky feeling in the hand. Still constructed out of
plastic
, it combines a rigid pattern and soft matte touch coating in the rear to give it a good clean feel in the hand. Nevertheless, we have seen better industrial designs on other HTC handsets, but as a whole, it's a decent improvement over the EVO 4G. However, it's worth noting that the
kickstand is now gone
– meaning, you'll have to prop it against something if you want a hands-free video watching experience.
One year later, we find some remarkably improved hardware under the hood. For starters, it's sporting a 4.3" qHD Super LCD display that employs a
parallax barrier overlay
to offer 3D-viewing with no glasses; much like what you find with the Nintendo 3DS. Additionally, it sports
two 5-megapixel auto-focus cameras
in the rear with dual-LED flash for standard and 3D video recording in 720p. Powering the handset, it's running a
1.2GHz dual-core Qualcomm Snapdragon MSM8660 processor
with a 1GB of RAM and an Adreno 220 GPU. Already, we can see that this is indeed a workhorse, but it also features 4G WiMAX connectivity, 1.3-megapixel front-facing camera, DLNA, Bluetooth, Wi-Fi, aGPS, and Android 2.3 Gingerbread with the most up-to-date Sense experience.
Starving for this one already? Well, we're going to be testing this one out extensively to see where it stands on the totem pole – especially when we've seen some top-notch Android smartphones released already this year. Expect our in-depth review!