HTC Droid Incredible 2 gets Gingerbread snack
9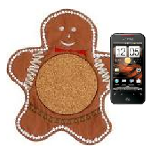 A few days ago, we
reported
that Verizon's support site was listing the instructions and changelist for the
update that includes Android 2.3
for the HTC Droid Incredible 2. We are happy to tell you that as we suspected, all of that information was posted on the site for a reason. Update 2.18.605.4 for the device is
now here
to suck up 116.306MB of your phone's storage space.
Besides updating the OS on your HTC Droid Incredible 2 to Gingerbread, the download also adds many features and improves others. One thing that will make you over the moon with joy is the
improved battery life
that comes from the update. A new download manager app is also included along with a new and improved method of word selection and copy functionality. The download will improve "device stability", adds a desktop dock app and also lets you charge your handset wirelessly.
Of course, some improvements are more important than others. Once you have downloaded the update, the New York Times web site will be able to be listed on your browser's bookmark list, mobile IM performance should show improvement and alarm notifications will turn off in emergency mode. So go ahead and
install the update
on your HTC Droid Incredible 2. Your handset will thank you for it.
source:
AndroidCentral