HTC Dragon, Huashan, Tinshan, and Songshan handsets all seen on roadmap
This article contains unofficial information.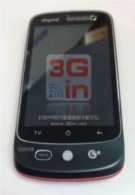 Continuing its mass market appeal by going after the mid-range and low-end spectrum of the market, the HTC Tiahshan will feature a 3.2" QVGA display while the Songshan is going to be seen with an even smaller sized 2.8" QVGA screen; granted there isn't much screen real estate with the Songshan because it'll also include a front-facing QWERTY keyboard. Finally there is the HTC A6388 which is speculated to have a 3.4" HVGA display and is featured in the photo provided – still there isn't a fancy codename associated with it yet. Aside from the screen sizes and speculated platforms, there is very little else known about these handsets. With MWC nearing with each passing day, we're hoping that HTC will make some revelations about the mentioned handsets during the event.
source:
Android Central
via
pocketnow