HTC Desire EYE vs Sony Xperia Z2: first look
1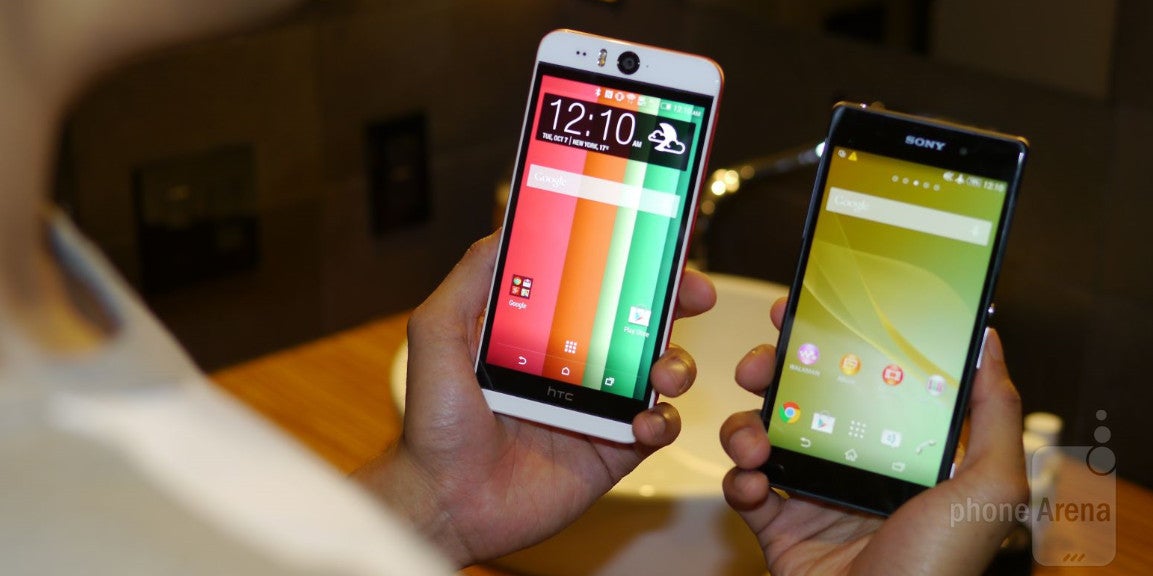 Sony's presence in the US smartphone market isn't as profound as elsewhere around the world, but at least diehard fans can pick up the Sony Xperia Z2 through various retail channels. Seeing that we have it on hand, we decided to give it a quick comparison against the HTC Desire EYE – a device that'll no doubt be a competitive offering when it becomes available to a wider degree of markets overseas. Not only are these two companies consistently fighting for a piece of the pie, but they're the ones who need to be aggressive in continuing to remain relevant amidst the stiff competition they're getting from other top-tiered manufacturers.
Although it's being replaced by the Xperia Z3 as Sony's flagship, the Xperia Z2 continues to exude the design attributes that give it a premium feel. That's partly attributed to its glass surfaces, which also contributes in giving the phone its water resistant quality – though, it's notorious for being dirtied by smudges and fingerprints. Although the HTC Desire EYE's design isn't as premium with its all-plastic construction, it manages to exude a stylish look that's exemplified by the colored accent bezel running around the side of the phone. Not only that, but HTC is able to one-up Sony by giving the Desire EYE an IPX7 rating – one that doesn't require its ports to be covered by those annoying plastic flaps.
Specs-wise, these two smartphones share a lot of similarities. For example, they feature 5.2-inch 1080p displays, powered by Qualcomm's Snapdragon 801 processor, and have expandable storage courtesy of their microSD card slots. As for their customized Android experiences, it's a matter of personal preference. Sense 6.0 is notable for its modern design language and focus on simplicity, while Sony's take on Android follows a similar approach. In addition, they're noteworthy for their cameras – a respectable 13-mgeapixel rear camera for the Desire EYE, while the Xperia Z2 packs an even beefier 20.7-megapixel sensor. However, HTC is able to capture some attention with its 13-megapixel front-facing camera, which looks significantly better on paper than the 2.2-megapixel front snapper in the Xperia Z2.