HTC Desire EYE versus Motorola Moto X (2014): first look
8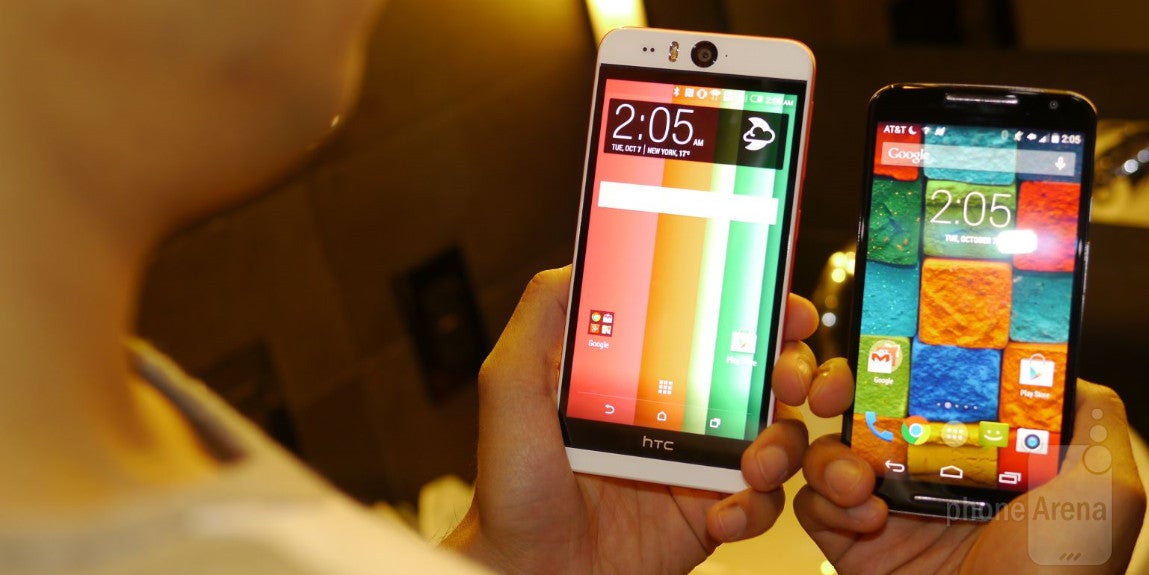 Motorola surely made some refinements to its new Moto X smartphone, to the point that it now feels more like a formidable, high-end smartphone that meets its rivals on the same level in terms of specs. Meanwhile, HTC is trying to do something a little bit different with its upcoming HTC Desire EYE – a device that's focusing its attention mainly on taking selfies. Already, the new Moto X has garnered a lot of acclaim, so we're curious to see if the same can be done by the Desire EYE.
Giving consumers control in how a smartphone is designed, the personalized approach to the Moto X's design stands head-above-water over the Desire EYE. It's not to say that HTC's offering can't win purely on looks, especially when it boasts a useful water resistance property, but we're most astounded by how compact the Moto X is in comparison to the Desire EYE. Needless to say, it becomes especially apparent holding the two in the hand – more so when they both are packing along 5.2-inch 1080p displays. The size disparity is so profound!
Motorola has done a swell job on placing emphasis to a few really useful software features with the mostly stock Android 4.4 KitKat experience of the Moto X, one that proves to be quite versatile indeed. In contrast, Sense 6.0 running in the HTC Desire EYE continues to bear a more modern design language that we prefer – as well as focusing on a few selective features that aren't too redundant. Even though the Moto X received a higher count 13-megapixel camera, the results produced by it were underwhelming to say the least. And we can certainly say the same thing about its battery life too!
HTC, on the other hand, is blessing the Desire EYE with a formidable set of cameras – 13-megapixel front and rear cameras to be exact. Of course, there's a huge focus with the front facing one, as they've also tweaked the camera app to heavily center around taking selfies. Who knows at this point if having a 13-megapixel camera in the front will actually make selfies look good, but at least we have a company that's looking to cater to the trend.