HTC DROID DNA hands-on
51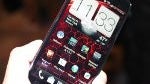 Holy smokes people! Just when we all thought it couldn't get any better, it just did. By now, you're all probably aware about
HTC and Verizon's big news today
, but more importantly, we managed to check it out in person! Making the competition sweat, the
recently announced HTC DROID DNA
is one monster of an Android smartphones. Armed with a long listing of impressive specs, it's sure to become one of the most highly prized smartphones this coming holiday season.
Before we get into the nitty-gritty regarding the handset, we got to commend both HTC and Verizon for quickly bringing this handset to market. Between now and its release, which is penned for
November 21st
, there's barely any wait to have it in the hands of consumers. On top of that, it's brimming from the seams with plenty of drool worthy specs to keep other phablets, like the
Samsung Galaxy Note II
, shaking in its tracks.
For starters, it's featuring an impressive
5-inch Super LCD 3 display with 1080p
(1080 x 1920) resolution and Gorilla Glass. Secondly, it's a powerhouse thanks to its
quad-core 1.5GHz Qualcomm Snapdragon S4 Pro
processor with 2GB of RAM. And finally it's running
Android 4.1 Jelly Bean with the HTC SEnse 4.0+
software to complement its hardware prowess. Needless to say, the competition will really need to watch out for this one!