HTC ChaCha Hands-on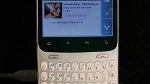 The HTC ChaCha is a young and hip phonefor all the socially connected cool kids in town with a dedicatedFacebook button, which lets them easily share content on the go. Addin the full portrait QWERTY keyboard and Facebook's own Zuckerbergwords about multiple upcoming devices having social at its core, wewere thrilled to get our eyes on the ChaCha.
Design-wise the HTC ChaCha is acandybar styled phone with a distinct curvature beginning under thescreen. This makes the bottom part with the keyboard to stand at aslight angle when compared to the upper part with the screen. It looks somewhat like the chin on the HTC Salsaor the European version of the original HTC Hero, but it is a bigger one. While this is notsomething major, it seems to help get a better viewing angle whentyping.
The blue Facebook button is what makesthe device stand out in the crowd. The button is aware of the contextand will let you easily upload photos to Facebook when you're in thegallery app. Android Gingerbread on a 2.6-inch screen (probably oneof the tiniest screen we have seen to run Android) is far from beingthe best experience out there. But surprisingly it is actually quiteusable – thanks to the HTC Sense skinning which has been tweaked toreflect the new social reality.
Silicon matters little to youngsterscaring about fast and easy, but let's mention the 600MHz QualcommMSM7227 chipset used in the ChaCha. It performs well on the handset,just as you would expect. The 512MB of RAM contribute to theexperience. Overall, we have a nice piece of technology especiallygiven the price range of the HTC ChaCha. The handset will sell sometime during Q2 forslightly more than the affordable HTC Wildfire S, which is prettygood.