HTC CEO Peter Chou denies that he offered to quit
21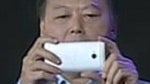 HTC CEO Peter Chou did not offer to quit if the
HTC One
failed to catch on with the public as widely reported. Chou's reign at HTC has seen the company zoom to the top of the U.S. smartphone mountain, only to slide downward over the last two years thanks to a series of mistakes and problems. In a recent interview, the executive said, "
There are a lot of rumors that say I would quit, but I never said that. I'm not going to find another job
."
Where did HTC go wrong? After all, it was the first to push the envelope with a 4.3 inch screen on the
HTC HD2
. When Google needed a manufacturing partner for the first Android phone, the
T-Mobile G1
, it went to HTC. The company that at one time trailed only Apple in U.S. smartphone market share, now is out of the top 5 as Chinese upstarts ZTE and Huawei have taken over. HTC's U.S. market share declined from 9.3% in the first quarter of 2011 to 2.5% in the first quarter of 2013. The company's stock is down 80% from its peak and earnings
declined 98%
year-over-year.
"HTC made mistakes in its product pricing and it had too many models, which confused consumers. But they have made improvements in recent months, such as streamlining its product line."-Jeng-Han Cheng, senior manager, Taiwan's Yuanta Financial Holdings
HTC has decided to throw money at marketing. Yesterday, there was talk that
the company had signed actor Robert Downey Jr. to a two-year $12 million contract
to portray himself in new HTC spots. Outspent by Samsung by a
factor of ten
in the marketing department, HTC is trying to capitalize on the success of its new Android flagship model, the HTC One. In fact, looking at the company's roadmap for the near future, it looks like the Taiwan based manufacture is sticking with different variants of the phone. The
HTC One mini
,
which a source tells us is coming to AT&T
, is expected to spawn a larger, phablet sized version of the HTC One currently code named the T6. And there is the Developer Edition of the phone as well as the
stock Android "Google Edition" of the device
that will be available next week.
But Chou has to be concerned that HTC could slip back into old habits. The
HTC First
, the Android powered handset that was pre-loaded with the Facebook Home launcher, was a big time fail for the company.
AT&T cut the price of the phone by 90%
to 99 cents and a
U.K. launch of the phone was scratched
.
source:
WSJ
via
BGR