HTC Bolt with QHD display to be powered by the Snapdragon 810
20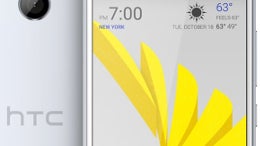 We've heard a lot about the upcoming HTC Bolt (codenamed Acadia) lately, and it's been mostly good news.
Design akin to HTC 10 but with bigger screen?
Cool.
Android 7.0 Nougat right off the bat?
Check. No 3.5 mm jack? Okay, that one might cause a little division. According to leakster LlabTooFeR, though, a considerably more controversial feature may be the choice of processor, with HTC apparently poised to treat the Snapdragon 810 SoC to a renaissance.
Yep, you read that right. Qualcomm's flagship mobile chipset of yesteryear was shrouded in controversy due to thermal issues, which affected several OEMs
including HTC
. Samsung avoided the Snapdragon 810 by sticking to its own Exynos SoCs at the top end, but rivals like Sony
had their big launches severely hindered
.
Since the Snapdragon 820's relatively incident-free emergence this year, very few smartphones have deployed the older chip. If the HTC Bolt is to roll with the SD-810, it'd be quite the head-scratcher.
HTC Acadia will be featured with Snapdargon 810 (MSM8994).
Display is 5.5 inch WQHD.

— LlabTooFeR (@LlabTooFeR) October 17, 2016
On a lighter note, LlabTooFeR does suggest the HTC Bolt will get a 5.5-inch WQHD (1440 x 2560) display, which is sharper than the 1080p panel originally thought. This is also in alignment with the resolution of the HTC 10, though won't be quite as sharp as its 5.2-inch counterpart.
Elsewhere, the HTC Bolt is expected to get 3 GB of RAM and 64 GB of expandable storage. It's apparently headed to Europe, Asia and Africa, and should also reach the U.S. via Sprint, and perhaps other carriers too.
Let us know what you think of this latest info -- particularly the inclusion of that Snapdragon 810 processor -- in the comments below.
Recommended Stories