Japanese Sony Xperia Z4 users are already complaining of overheating issues
59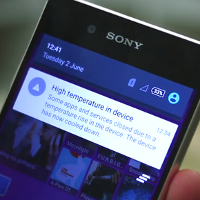 Well that didn't take long, did it? The supposed overheating issues of the Snapdragon 810 have been well-documented over the past months, but it was thought that a revised edition of the mobile chip had put paid to any lingering doubts. Yet following on from a recent clip of a prototype Sony Xperia Z3+ getting a little
hot under the collar
during camera app usage, it looks like early adopters of the Xperia Z4 are also having these troubles.
With the
Z4 being just hours old
in the Japanese retail market, Sony would have been hoping for a smooth, incident-free launch. But trouble seems to follow devices powered by the Qualcomm Snapdragon 810 just lately, as a number of (translated) tweets by Japanese consumers demonstrate:
Sure, a few posts on Twitter don't exactly constitute damning evidence that the Xperia Z4 is overheating. But what's telling is that retail stores across Japan are warning customers about the heating issues relating to its processor. They also recommend prospective owners of the Z4 power down the handset at regular intervals, power off during charging and take regular backups -- not the kind of hoop-jumping anybody would want to partake in after coughing up hundreds of dollars for a flagship device.
Processor report tool CPU-Z also throws up some worryingly high temperatures in a reading from an Xperia Z4:
The fact that retailers are warning shoppers at the point of sale is not great press for Sony, nor indeed for Qualcomm. The chip maker has vehemently defended the 810, with the "revised" version of the SoC intended to ensure that overheating would be no more. The early reaction out of Japan suggests that both Sony and Qualcomm could have a real problem on their hands, and with the global launch of the
Xperia Z3+
upcoming, it's one that quickly needs to be nipped in the bud.