HTC Americas president Mackenzie says HTC has "an announcement" coming later this month
22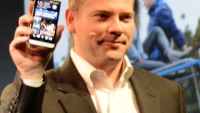 Recently there has been
a flurry of photographic leaks
involving the
HTC One M9 Plus
. This is presumably the premium version of the
HTC One M9
with a 5.2-inch 1440 x 2560 resolution screen, Snapdragon 810 or octa-core MediaTek CPU (depending on the region) and a fingerprint scanner.
The device was a surprising no-show at MWC
, but it looks like we won't have too long to wait before the phone is unwrapped.
A report published today quotes HTC Americas' chief Jason MacKenzie teasing an announcement to be made later this month. Although the executive didn't mention a new phone, the announcement will apparently be about a way to differentiate between HTC, Apple and Samsung. While this sounds more like a new feature being announced rather than a new phone, with the recent leaks of the HTC One M9 Plus, it would certainly seem that this could be the time to introduce a new premium handset.
"When I look at the flagship [the M9], I see we're building the most premium device. But I can't stop there. We have a huge announcement in middle to late March around extreme differentiation between Samsung and the iPhone. It solves key pain points."-Jason Mackenzie, president, HTC Americas
Releasing a premium version of a flagship phone seems to be the "in thing" these days. Apple has the
Apple iPhone 6
and
Apple iPhone 6 Plus
. Samsung has the
Samsung Galaxy S6
and the
Samsung Galaxy S6 edge
, and even Xiaomi has the
Xiaomi Mi Note
and
Xiaomi Mi Note Pro
. So the unveiling of a premium HTC One M9 Plus wouldn't exactly set HTC apart from the other manufacturers unless HTC has something else up its sleeve.
The problem for HTC is that when you have a crowded field, one way to differentiate yourself is through promotion. This has been an area where HTC itself has admitted it has a weakness. But knowing you have a weakness and correcting it are two different things. HTC told us a few weeks ago that they have beefed up their social media head count. So far, we haven't seen any signs of this.
source:
BusinessInsider