HTC 10 vs HTC One M9 vs HTC One A9: specs comparison
7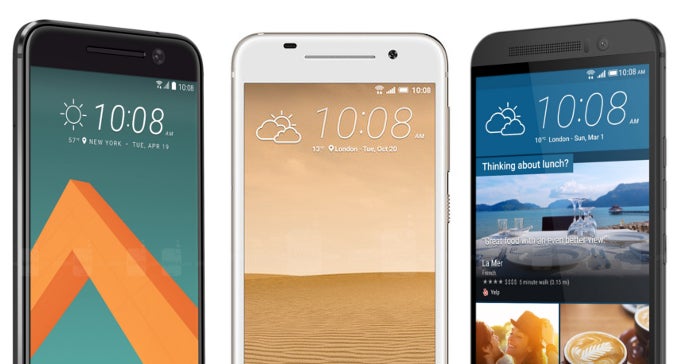 Well folks, the
HTC 10
is
finally out
. No red carpets, no fanfare sounds, but the reality is – it's shaping up to be a pretty solid Android flagship, well capable of stealing away customers from other major players on the markets, or of re-igniting the fire in the hearts of HTC fans.
The HTC 10 comes after last year's
HTC One M9
and
HTC One A9
and seems to have adopted characteristics from both these handsets. Its body is much more like the One A9, with the arched back and all, while the inclusion of the fingerprint scanner on the bottom, together with two capacitive keys, seems to have evolved directly from the One A9's "chin" part.
So, how has hardware in top-tier HTC smartphones evolved over the past year? Before we get the chance to tought the phone and play with it in person, here are the cold-hard specs:
Scratch-resistant glass, Ambient light sensor, Proximity sensor
Scratch-resistant glass, Ambient light sensor, Proximity sensor
Scratch-resistant glass, Ambient light sensor, Proximity sensor
Qualcomm Snapdragon 810 MSM8994
Qualcomm Snapdragon 820 MSM8996
Qualcomm Snapdragon 617 8952
Octa-core, 2000 MHz, ARM Cortex-A57 and ARM Cortex-A53, 64-bit
Quad-core, 2200 MHz, Kryo, 64-bit
Octa-core, 1500 MHz, ARM Cortex-A53, 64-bit
Adreno 430
Adreno 530
Adreno 405
Android (7.0 Nougat, 6.0 Marshmallow, 5.1 Lollipop, 5.0 Lollipop), HTC Sense UI
Android (8.0 Oreo, 7.0 Nougat, 6.0 Marshmallow), HTC Sense UI
Android (7.0 Nougat, 6.0 Marshmallow), HTC Sense UI
Qualcomm Quick Charge 2.0
Qualcomm Quick Charge 3.0
Qualcomm Quick Charge 3.0
25.40 hours
the

average

is 11 h (660 min)
16.3 days (391 hours)
the

average

is 29 days (688 h)
21.70 hours
the

average

is 0 h (0 min)
27.00 hours
the

average

is 0 h (0 min)
16.00 hours
the

average

is 0 h (0 min)
16.8 days (402 hours)
the

average

is 0 days (0 h)
19.0 days (456 hours)
the

average

is 0 days (0 h)
18.0 days (432 hours)
the

average

is 0 days (0 h)
19.0 days (456 hours)
the

average

is 20 days (472 h)
Single camera
Single camera
Single camera
20 MP (Sapphire crystal lens cover, Autofocus, CMOS image sensor, BSI sensor)
12 MP (OIS, Laser autofocus, BSI sensor)
13 MP (Sapphire crystal lens cover, OIS, Autofocus, BSI sensor)
Aperture size: F2.2; Focal length: 27.8 mm; Sensor size: 1/2.4"; Pixel size: 1.2 μm
Aperture size: F1.8; Focal length: 26 mm; Sensor size: 1/2.3"; Pixel size: 1.55 μm
Aperture size: F2.0
3840x2160 (4K UHD) (30 fps), 1920x1080 (Full HD) (60 fps)
3840x2160 (4K UHD), 1280x720 (HD) (120 fps)
1920x1080 (Full HD) (30 fps)
Continuous autofocus, Picture-taking during video recording, EIS, Video calling
Time-lapse video, Hyperlapse, Picture-taking during video recording, Video calling, Video sharing
Hyperlapse, Video calling, Video sharing
4 MP
5 MP
4 MP
1920x1080 (Full HD)
1920x1080 (Full HD)
1920x1080 (Full HD)
5.69 x 2.74 x 0.38 inches (144.6 x 69.7 x 9.61 mm)
5.74 x 2.83 x 0.35 inches (145.9 x 71.9. x 9 mm)
5.74 x 2.79 x 0.29 inches (145.75 x 70.8 x 7.26 mm)
5.54 oz (157.0 g)
the

average

is 6 oz (171 g)
5.68 oz (161.0 g)
the

average

is 6 oz (171 g)
5.04 oz (143.0 g)
the

average

is 6 oz (171 g)
Back: Aluminum
Back: Aluminum
Back: Metal
Fingerprint (touch)
Fingerprint (touch)
Notification light
Touch sensitive control keys