HTC 10 tester says phone lives up to teasers; long battery life, great sound, runs fast and smooth
42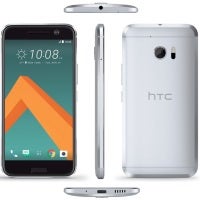 The latest leaked information about the
HTC 10
comes from someone who claims to be testing the phone. We suggest that you take this story with the proverbial grain of salt. If true, it would appear that HTC fans just might have their hero phone at last. In fact, it could very well be a superhero phone. Before we proceed, again, use your cynical eye while reading this.
According to this anonymous HTC 10 tester, the handset's speakers are impressive. There is a dual speaker system in the front with one speaker on top and the other on the bottom of the handset. How good are they? "I have heard sounds in songs that I've never heard before," says the tester. Battery life? How about 17-hours off the charger with five to six hours of screen time. And the near stock Sense 8.0 skin helps the HTC 10 run fast and smooth. HTC has already said that
the device would be the smoothest and fastest Android phone
.
Besides the tweets sent out by the anonymous HTC 10 tester, we have screenshots of the camera UI that you can look at. Has HTC really delivered this time? We should know more starting at 8am EDT tomorrow morning when the online unveiling begins.
Thanks for the tip!