HDelight streams Full HD conent wirelessly from the iPad for $140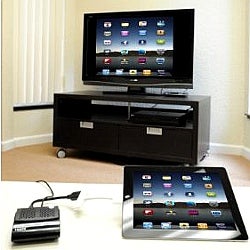 If you want to go around Apple's AirPlay restrictions, you can now get the
HDelight
setup from bright-View by Xpike Innovations, which allows you to stream Full HD 1080p content from the
iPad 2
, and mirror every app on your tablet wirelessly on your big screen HDTV.
Apple's AirPlay has its limitations regarding which apps play kosher with it, and which officially don't. HDelight promises to mirror your iPad 2's screen on your big HDTV wirelessly, regardless of which app is active, and what 1080p content you are running:
"
Having the HDelight means users are not tethered to the area around the HDTV set while enjoying the many benefits of the new iPad 2. Instead, one can imagine the iPad 2 as an over-sized touch-screen remote for the HDTV, and it couldn't be more intuitive – now that the iPad 2 gets wireless 1080p mirroring, whatever you see on the iPad 2 will be whatever you see on the TV, with no latency.
", according to Robert Lo, CEO of Xpike Innovations.
HDelight is built around the WHDI technology to stream uncompressed 1080p video across the room to your TV. Granted, both the transmitter and receiver are a tad on the unwieldy side, plus you have to get that very special HDMI cable from Apple to plug into the transmitter, but some might find HDelight useful nonetheless. The price for the whole kit is
$139.99
, compared to the Apple TV "hockey puck", which goes for mere $99.
source:
Xpike