H1 2015 in review: Best smartphones
44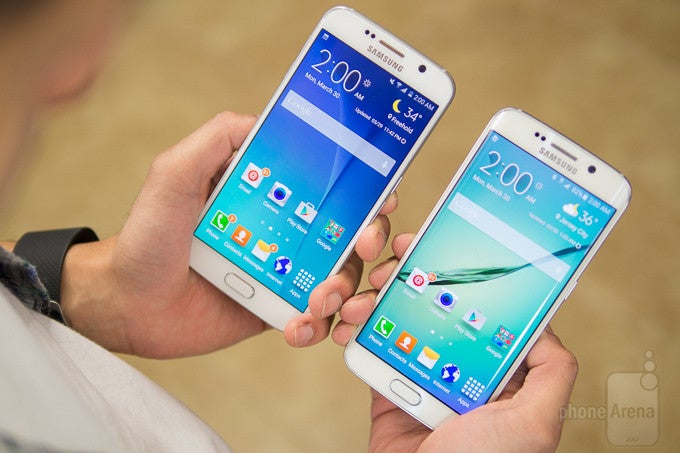 Several days ago, we summarized 2015's first half by taking another look at the major events that occurred – device announcements, technology advancements, software releases, all that good stuff we all live and breathe. Then we honored the best smartwatches launched during the past six months. H1's best tablet and its runner-up got the same treatment soon after. And now, there's just one unchecked item on our to-do list. Ladies and gents, it is time to announce the best smartphones of H1 2015, and if you're a follower of our review section, you should have no troubles guessing which two handsets we've picked.
Have you missed our previous recaps of H1 2015? Here they are:
Best smartphones of H1 2015: Samsung Galaxy S6 and Galaxy S6 edge
For the longest time, Samsung has been crafting some of the best, most sought-after phones, and looking at the Galaxy S6 and S6 edge, we can only say that Samsung's still on top of its game. Its recipe for success? Well, the Galaxy S6 and Galaxy S6 edge combine brains with beauty, functionality with flare, all with a dash of TouchWiz on top.
Seriously, there's just so much to like about Samsung's top smartphones! Made of metal and glass, they instantly draw the attention with their outstanding looks. That is especially true for the Galaxy S6 edge, which is unique with its twin-curved AMOLED display. But as we mentioned above, beauty goes hand-in-hand with brains – the Galaxy S6 and Galaxy S6 edge are packed with top-notch hardware, including gorgeous Quad HD displays, an efficient Exynos SoC, and a pair of marvellous high-res cameras.
Now, right after the announcement of the Galaxy S6 and Galaxy S6 edge, many were disappointed to learn that they both lacked microSD card slots and removable batteries. But, like it or not, that's the way things are seemingly going for the company, at least as far as high-ends are concerned. Instead of microSD storage expansion, the S6 and S6 edge offer up to 128GB of blazing-fast internal storage, and to compensate as much as it can for the lack of a removable battery cell, Samsung has equipped the devices with both rapid charging and wireless charging functionalities.
All in all, the Samsung Galaxy S6 and Galaxy S6 edge are two of the best smartphones in existence, and it is going to take quite an effort on behalf of Samsung's competitors to beat these high-ends. However, there's this one particular smartphone that's no less awesome and definitely worthy of a mention in this post.
Honorable mentions:
LG G4
LG's best smartphone yet has plenty to stand its ground with – from the look and feel of its exterior to the prowess of its main camera and the list of useful software features that come baked into it. Notably, the LG G4 is one of the few phones that may come with premium leather covering its back. The material feels nice, looks outstanding, and is quite the conversation starter. Once you turn it on, you're greeted by a large, high-resolution Quad HD display that brings your content to life and, thankfully, doesn't hurt the system's performance. Speaking of which, the LG G4 may not come with the top SoC available in Qualcomm's portfolio, but even with a Snapdragon 808, LG's flagship runs just fine through most tasks. And then there's the 16MP, optically-stabilized main camera on the LG G4. Anyone from amateurs to experienced photographers would love it for its ease of use and broad selection of manual controls, available at a tap's distance. In just a few taps, you can take beautiful shots even in challenging situations. In a nutshell, if the LG G4 seems like a phone you're falling for, don't hesitate to make it your daily driver. In all likeliness, you won't be disappointed.
Huawei P8
Gone are the days when Huawei's smartphones were cheap and uninspiring. The Huawei of today is a well-known player on the smartphone market, experienced in making some seriously good hardware. A great example of that is the Huawei P8. Sure, it might not seem like anything out of the ordinary at first glance – the phone packs a 5.2-inch 1080p display, a 13MP main camera, a Kirin SoC, and a 2680mAh battery, which are specs making it a decent upper mid-range phone, but nothing beyond that point. Then you suddenly realize that all this hardware comes inside a premium, metal-made body only 6.4 millimeters in thickness. Quite a feat of engineering, if you ask us.