Green Throttle wants to transform your Android phone into a gaming console
9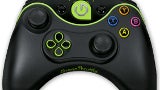 Green Throttle Games is yet another company that will try to unleash the full gaming potential of Android devices. In contrast to others, though, its solution seems to be a bit more complete.
What Green Throttle is going to offer is a game controller, an app with a cool interface for HDTVs and in-house developed multiplayer games.
The Atlas Controller, as it is called, is said to be the first Android controller offering console-level precision and accuracy, thanks to having true analog sticks. Developers can already pre-order the Atlas Controller in various bundles. A single controller costs $44.95, while a two-controller bundle will set you back $89.95. Meanwhile, an early version of the SDK is already available.
The Green Throttle Arena app will provide a pleasing user interface when you connect your Android device to an HDTV, in order to make things even more console-like. Finally, Green Throttle Games says that it will not only work with game developers to help them add support for Green Throttle to their games, but will also develop their own multiplayer titles for you to enjoy.
One thing that gives us hope that this project will be able to take off is the team behind it. One of Green Throttle's co-founders is Charles Huang, who's a co-creator of Guitar Hero, while another co-founder, who's also president and COO of the company, Matt Crowley, has previously worked at Nokia as well as Palm, where he has helped bring the Pre to market.
Green Throttle Games is yet to announce an official launch date for their project.
source:
GreenThrottle
via
Pocket-lint