Got KitKat? Here's how to force immersive mode on apps and throughout the entire UI
16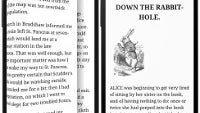 Immersive mode is one of the coolest features that Android 4.4 KitKat brought to the table, perhaps even in the entire history of the OS. So cool, in fact, that we can't help but feel a little mad at Google for not implementing this sooner. It just makes too much sense!
If you feel like you're in the same boat, then you probably already know just how rare immersive apps still are. With the exception of a few gaming titles and some miscellaneous apps, pretty much everything is still stuck in the pre-KitKat era. If that bugs you as honestly as it does us, then today is your lucky day, for we'll be showing you how to force immersive mode on all your existing apps, and even throughout the entire UI of Android.
As always, while the procedure is dead easy, it still requires that your device is rooted in order to introduce such a major change to the default behavior of Android. That's just how the OS works. Fortunately, rooting your device today is pain-free, quick and completely reversible, and you don't really have to be a techie to do it. But enough talk, lets see what we can do to make your Android more immersive in the below slideshow.