Gorilla Glass president anticipates eight-fold tablet market growth by 2014
4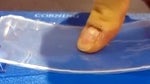 If you own an iPhone 4, a Samsung Galaxy S device, a Dell Streak, or many more, you already know how strong
Gorilla Glass
is. But how much do you know about the company behind it? Corning, the maker of
Gorilla Glass
, manufactures glassware and ceramics for far more than the mobile industry.
Looking to the future of tablets, Corning's president, James Clappin, predicts that the
tablet market
will grow by 800% by 2014. Granted, Clappin was being optimistic in front of their investors, but we're inclined to believe his prediction. In 2010, 20 million tablets were sold, and he predicts 180 million in 2014.
Dmitriy Molchanov, a Yankee Group analyst, sees a similar future for
tablets
: "The tablet sales curve is rising faster than that of HDTVs, handheld gaming consoles or even MP3 players." While Molchanov and the Yankee group are optimistic, they anticipate slightly slower tablet growth, around 300% by 2015.
While Corning's Gorilla Glass is gaining in both reputation and widespread use, there are competitors on the horizon. Asahi Glass of Japan makes a similar ceramic called Dragontail, which they expect to net them 30% of the tablet market by 2012. We'll see. As long as there are customers unwittingly dropping there phones or putting them in the same pocket as their keys, there will always be a market for scratch-resistant glass.
source:
Corning
via
PC Magazine
Recommended Stories