Google's tight control over Android worries the Chinese Government
49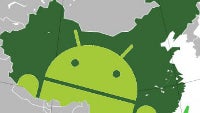 China is one place where Android has grown tremendously popular. Once a nation preferring Symbian, China quickly switched to Android after Nokia announced it is adopting Windows Phone. But now the Chinese Government is concerned the country might have gotten too dependent on Google's platform.
"Our country's mobile operating system research and development is too dependent on Android,"
China's technology ministry said in a white paper.
"While the Android system is open source, the core technology and technology roadmap is strictly controlled by Google."

Moreover, the Chinese Government reminded itself of the couple of cases where Google discriminated against some Chinese companies by delivering code later. Also, just last September
Google pressured Acer
and it had to cancel its joint smartphone initiative with Chinese Alibaba.
Interestingly, estimates show that last year China became the world's biggest smartphone market surpassing the United States and that difference will only grow this year.
So overall, this could well be a warning that Chinese regulators could step in against Android and give a helping hand to local manufacturers.
source:
Business Insider