Google's Project Loon takes out power lines during test flight in Washington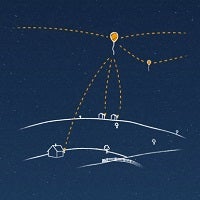 Google has all sorts of outlier projects in the works. From driverless cars, to
floating barges
, to
fiber internet
,
Glass
, and internet connectivity
via high-altitude balloon
, Google is not lacking for imagination.
The balloon idea, called Project Loon, has been
in the works for a while
. Although, about a year ago, Google was able to get its idea airborne in New Zealand, with a launch of about 30 test balloons to get a practical look at all the technical challenges involved.
Providing
connectivity via balloon
is not an original idea, but Google's application of the concept certainly is. The ability to bring connectivity to remote areas in such a fashion would mean less dependence, and less money spent, on satellites.
New Zealand is not Google's only test bed even though and the much more sparse population density down under allows for a higher margin of error if something goes wrong. However, environments around the world vary, so Google has been taking to the skies in other places too, like the United States.
Late this past Friday, one of Google's Project Loon balloons, suffered a mishap over Washington State. The issue was known to Google as it was able to send a notice to the FAA who then issued an alert to steer any aircraft away from where the balloon was descending.
The balloon was likely launched in Nevada where Google recently began testing, and may have been brought down through some attempted "controlled descent." As the balloon was getting closer to mother Earth however, it drifted into some power lines in a rural part of south central Washington, cutting the power to small number of Pacific Power customers.
Each Project Loon balloon has an emergency parachute to slow its fall from altitude if needed, and Google says that it has a dedicated team to monitor and recover balloons in the field. Naturally, such activities are coordinated with the FAA to keep the busy skies in check.
sources:
Yakima Herald
and
TechCrunch