Google's Project Bloks will use real blocks to help kids learn to code
3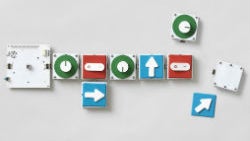 Major companies all have a vested interest in making sure the next generation knows how to code and of course it's always best to hook them while they're young. At WWDC this month, Apple unveiled the
Swift Playgrounds
app to help kids learn to code, and now Google wants to take that idea a bit further with its Prokect Bloks initiative.
Project Bloks is an open hardware plan from Google which will allow developers to create physical blocks that can be used together in order to help kids learn to code. The idea is that if you're teaching a kid to code with the traditional screen and keyboard, it limits the experience. But, by using physical blocks, you allow the opportunity for kids to work together collaboratively in a group to solve a problem and learn to code at the same time. Even more interesting, because you're using physical blocks, you can teach the basics of code logic to kids who can't even read yet or those with dyslexia who would never be able to code normally.
The system itself is made up of three components: the Brain Board, Base Boards, and Pucks. The Pucks attach to Base Boards and can be programmed with different instructions (on or off, directions, increase amounts, etc.) Base Boards can then be connected to one another in various ways. Then, the whole creation connects to the Brain Board, which receives and processes the instructions before sending them to a connected device.
Sounds pretty cool. We'd love to play with some.