Google's Project Ara opens to developers, the developer's kit for the modular phone is also released
23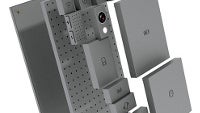 Chances are that you have already heard about one of Google's most curious projects, Ara. Its aim is to develop a phone that consists of an endoskeleton and interchangeable hardware modules. Just the other day we passed on the information that the researchers at Project Ara will most
probably have a working prototype of the intriguing device
as soon as the next month. What's more, the team behind Project Ara today released the first Module Developers Kit (MDK), which gives us further insight into the technical components of the modular smartphone. It was also announced that the first Project Ara developers' conference will take place next week.
According to the freshly-released MDK, the endoskeleton of the modular device is nicknamed
"endo"
and comes in 3 different sizes. The largest one (which will be released sometime in the future) will sport a 4x7 parceled grid, whereas the medium-sized endo will have 3x6 grids in tow. The smallest endoskeleton will come with a 2x5 grid. It is also stated that each endo will have a single spine with multiple ribs coming out of it. These ribs will provide structural support for the blocks.
Due to some limitations to the mainframe, the maximum size of a rear module for the Ara phone will be 2x2 grids. Some very small 1x1 modules won't fit on the largest endo, whereas the biggest 2x2 blocks won't be compatible with the smallest Ara mainframe. The 1x2 modules will be available across the three variants and Google states that they can be inserted either vertically or horizontally on the endo.
The locking mechanism for the front modules has also been revealed. They will rely on a prototype ball-spring plunger.
It also becomes clear that Ara users will be able to make use of one or more batteries simultaneously and – everyone, rejoice! – even
"swap a depleted battery with a fresh one without powering off their phone"
. As if this is not enough, it is also stated that all module batteries can be charged while being snapped onto Ara's endo at the same time, as well. Well, how cool is that!
The team hopes to create a complete MDK guide for module manufacturers by the end of 2014. We can only hope that a fully-working Project Ara device will be released shortly after.