Google's Andy Rubin hopeful that Nokia will adopt Android
12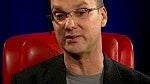 Pressured by the interviewers at the D: Dive into Mobile conference last week, Andy Rubin, of Android origin, had a hard time fending off questions about Google talking with Nokia's new CEO Stephen Elop about the possibility of introducing Android to Nokia devices. Such a move would make huge sense, at least for the North American market, where Nokia is almost non-existent. Despite that it is not as big as Europe, Asia and Africa, where Nokia sells half a billion phones a year, the American market is extremely visible and something of a trendsetter in the last few years, with the advent of iOS and Android devices.
Andy Rubin said that, basically, every OEM manufacturer is adopting Google's mobile OS, and with the
shutting down of the Symbian Foundation website
Nokia is left the sole licensee of the aging platform. He said that he is totally open for business should the new management at Nokia, which is headed by the former Microsoftie Stephen Elop, decide to evaluate Android as an option. We are sure that Google's chief Android guy would love to see his creation on a few hundred million phones more. The "no comment" type of avoiding direct questions if Google is in talks with Nokia about it, only confirms the sneaking suspicion that talks might already be underway. The Nokia part starts at about 6 minutes into the video below.
source:
AllThingsDigital
via
Computerworld