Google updates mobile search to improve your ability to find a good steakhouse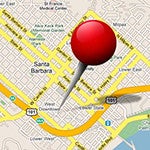 Google has spent
quite a bit of time
improving the web-search experience on mobile phones. Their latest tinkering just rolled out - an improvement to how results are displayed for local places. If you search for a restaurant you will get the usual map of locations and a list of places with their averaged rating and contact buttons, but
click on one of them and the real improvements show up.
Once you click on a promising-looking restaurant or business and you are pushed darn near instantly to a page that has most of the information available, include the address (and distance from you), hours of business, an "at a glance" description, and links to making reservations and (in the case of restaurants) a link to their menu. Continue scrolling down to start seeing reviews.
Want to compare your first pick to other nearby restaurants? Rather than having to go back to the main list, you can just swipe left and right to move between the pages for each business. How smooth this is depends somewhat on your connection speed, but on WiFi or LTE it almost felt like using a native app as you swiped between results.
The new location search does feel particularly tailored to restaurants, and we expect that searching for local grub is one of the most common types of place-searchers that mobile users do. But the overall experience is great no matter who you are searching for, and
shows that a well-executed web experience really can challenge a native app for responsiveness and usability.
Android and iOS users should see this rolled out worldwide already, so next time you're on a business trip, whether in London, Rio de Janeiro, or Chicago you can give Google's improved locations search a shot to discover some good eats.
source:
Google
via
The Verge