Google stock closes at another all-time high
28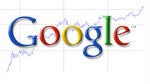 We just heard that Apple's stock, which has dropped quite a bit recently, may be
looking up again
. But, no matter how high it looks, it isn't very likely to catch up with Google's stock, which closed the day today at another all-time high. Google stock has been no stranger of high altitude. It crossed the
$700 mark
around the same time that Apple's stock did last September, but until Apple's stock, Google's has continued to rise.
Google's stock closed today at a new all-time high of $861.55, and there are analysts who believe that $1,000 isn't an impossible feat for Google's stock. Back in February, when Google's stock first hit $800 a share, there were at least two analysts who put Google's 12-month target at $1,000. Of course, it should be noted that there were analysts in 2012 who also thought that $1,000 was possible for Apple.
Overall, analysts are much more confident that Google will benefit from the mass adoption of smartphones, even if they aren't Android devices (more people on the web means more eyeballs on Google ads, of course.) And, it doesn't seem too far off that Google's stock could hit $900.
Although while Apple can't expect to catch Google in terms of stock price, Google shouldn't expect to catch Apple in terms of market cap, which has Apple in a clear lead with a $433.1 billion market cap. This latest bump has put Google's market cap ($285.8 billion) just above Microsoft ($281.9 billion), which means Google is now the second most valuable tech company in the world.