Google stock hits an all-time high, Apple falls after iPhone 5 release
65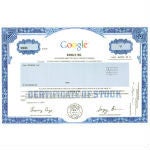 Recently, we heard about Google's stock price hitting the $700 mark for the first time in five years, and we also heard about
Apple's stock hitting $700
for the first time ever. Now, Google's stock has hit a new all-time high price. It seems that Google's financial outlook hasn't been affected by Apple's recent newsmaking with the iPhone 5.
During today's trading, Google's share prices hit a high of $748.90, just barely topping the record of $747.24 per share, which was set back in November, and closed the day at the new high mark for Google's history at $749.38. On the other side, Apple's stock topped $700 both on the day of iOS 6's release, fell back down, then jumped over $700 again on Friday for the iPhone 5 release. But, Apple's stock dropped all the way back to $688 to start this week, only rebounding slightly to end the day at $690.79. Maybe all of the bad press about iOS Maps is taking its toll on Apple.
Of course, stock prices aside, Apple is still killing it with an overall market cap of $647.55B, whereas Google is at just $245.07B. This is because Apple is maintaining its crazy high stock price with 937.41 million shares in the market, while Google has just 327.03 million shares issued.
Both companies are still the top two tech companies as far as per share price, but they have a long way to go to catch the most expensive stock in the world: Berkshire Hathaway Inc. which closed to day at $133,034.00 after dropping $1550 on the day. Even more obscene than that bit of info is that Berkshire Hathaway traded at an all-time high of $149,972.28 back in 2007, and at that time Warren Buffet owned almost 500,000 shares of the company. That's almost $50 billion for those of you reaching for your calculators.