Google shows off the plans for a new 1.1-million-square-foot "Bay View" campus
13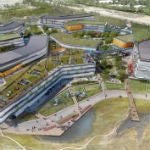 It looks like Google is planning to expand its office space once again, and this one is going to be big. Today, Google showed off concept renders for a new campus that would be 1.1 million square feet and would be called the "Bay View" campus, which is referring to its location with a view of San Francisco Bay, and not the city in northern California, Bayview.
no employee would be more than a 2.5 minute walk from each other
.
The parking lots are hidden away, giving the campus a much cleaner look, and all of the buildings are connected with bridges. The new campus is expected to have 9 buildings, which are planned to expand the current Googleplex of 65 buildings, and not replace them. Each building is designed as a bent rectangle in order to promote "casual collision of the work force."
No word on when construction could start.