Google says no new Pixel laptop in the works
11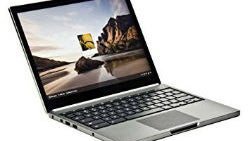 Google hardware chief Rick Osterloh had some bad news for Pixel fans at Mobile World Congress in Barcelona today. According to Osterloh, Google has "no plans" to build another laptop, although the wording and the questioning around the statement has us curious about what exactly that might mean, because the questioning appeared to be focused specifically on a new Chromebook Pixel and doesn't mention a new hybrid Pixel C tablet/laptop.
According to
TechCrunch
, Osterloh told journalists at MWC that Google doesn't currently have plans for a "Google-branded laptop", but Osterloh reiterated that Google is dedicated to the Chrome OS platform as a whole. The push behind Android apps on Chrome OS, and Google's close work with Samsung on the new Samsung Chromebook Plus and (upcoming) Pro proves that Google is all-in on Chrome, which Osterloh said holds the "number two market share in the U.S. and U.K." for laptops.
However, no "Google-branded laptop" doesn't necessarily mean we won't see something very similar, like a new tablet hybrid in the Pixel C line. Sure, it's a technicality, but it would make sense. Google is pushing hard for Android apps on Chrome, but a big part of that is getting developers to update apps to take advantage of larger displays (something Google has failed to do over the years for the most part) and a new Pixel C tablet would help show that Google is not giving up on the tablet form factor.
We'll have to wait and see though.