Google releases official Glass how-to video
5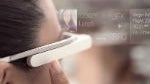 Just about an hour ago, we saw an unofficial screencast video from Dan McLaughlin showing us what to expect when using Google Glass, with sections covering the voice command, touch controls, and head-gesture controls. Now, Google has released its own official video showing how to use Glass. It isn't nearly as comprehensive as Dan's offerings, but it certainly has higher production value.
Google's video is only one minute long, and only covers touch controls and where exactly different cards can be found in the Glass timeline. Dan had two videos at about six minutes each, so obviously the aim was a bit different from Google's team. According to Google, the main screen for Glass is the clock, then to the left are future cards like upcoming events, appointments, etc; and, to the right are past events including messages and social shares from your friends.
Definitely an interesting video, and we're looking forward to more videos by Google showing off different tricks with Glass.