Google previews new modular designs as it tries to woo developers to Project Ara
37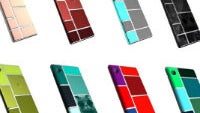 Today was one of the bigger days for Google's Project Ara, but you might not have known it. April 15th marked the first developers conference specifically for Google's new modular phone concept. Google took the time to not only try to attract developers to the platform, but also to preview some new designs for modular handsets.
Head of Project Ara Paul Eremenko has said that there will be at least two more Project Ara developers conferences, one in July and one in September. But, Eremenko also talked about the overall philosophy of Project Ara, which is basically to bring the open ideals of Android to the hardware itself. According to Eremenko, one goal of the project is to "democratize the hardware ecosystem, break it wide open, basically disintermediate the OEMs, so that component developers can now have privy with the consumer."
We've already heard that Google is planning the initial device to cost manufacturers just $50 to build, although the final retail price is still unclear. But, Google also showed off some of the interesting design ideas that it has for the devices. Users will have access to the Ara Configurator (think Moto Maker), where they will be able to choose colors for the components, or even upload an image which will be printed onto the components to make up the back. There are even plans for 3D printed textures for the backings.
Day two of the Project Ara developers conference begins tomorrow (Wednesday) at noon EST. We'll bring you the latest as it comes.