Google makes a subtle but important change to the Search app
2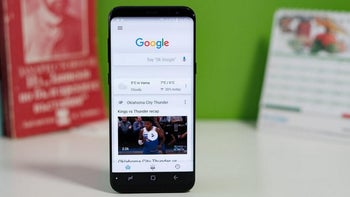 A look at the updated version of the Google Search app reveals that Google is phasing out its Voice Search feature in favor of the
Google Assistant
. Voice Search could be found in the Google Search app and on the app's widget. The iconic microphone icon, when tapped, would allow the user to verbally request a search. But now, Google wants its virtual digital assistant to take over all voice searches.
Spotted first by 9to5Google
, a subtle change can be found in the Google Search app (aka the Google app) in version 10.24 or 10.28 beta. The microphone icon once found on the right-hand side of the search bar has been replaced with the Google Assistant icon. In addition, the old search bar included the words "Say Hey Google" while the updated version now reads "Ask any question."
Google Assistant is at the heart of the Google ecosystem. It is considered to be the best digital assistant among the top four, a group that also includes Amazon's Alexa, Apple's Siri and Microsoft's Cortana. According to Google, there are now over 1 million actions that Google Assistant can handle. And with Assistant available on all of the Google Home smart speakers and the Nest Hub smart displays, replacing Voice Search with Google Assistant is a way for the company to bring all of its apps and devices in sync with each other.

Apple had a head start with Siri, but Google Assistant has surpassed Apple's digital helper

Google hasn't finished rolling this update out to everyone yet, but it is easy to check to see if it has hit your phone. Simply open the Google Search app and check out which icon is in the search bar.
The first virtual assistant found on a smartphone was Siri, which debuted with the
Apple iPhone 4s
on October 4, 2011. Apple had acquired the technology when it purchased Siri Inc. in 2010. At the time, Siri was a concierge app in the Apple App Store and its developers planned to offer it for Android and BlackBerry devices. Even though Apple had a head start in this space, some of the company's former employees said last year that
Apple lost its vision for Siri the day after it was first introduced
on the iPhone 4s; that was the day that Steve Jobs died.
Meanwhile, several tests have shown that
Google Assistant recognizes questions and gives appropriate responses better than Siri
. An extensive test was conducted last year of the four major digital assistants by venture capital firm Loup Ventures and its analyst Gene Munster. The test showed that Google Assistant answered correctly or performed the correct actions better than its rivals in all five categories that were being tested (Local, Commerce, Navigation, Information and Command). Siri finished last in three of the categories and only got 12% of navigation queries correctly. Alexa finished second in four of the categories while Cortana finished third in three of the classifications.
The aforementioned test was conducted on smart speakers. So a few months later, Loup put the assistants through the paces again,
but this time it used different smartphones
. Google Assistant on a
Pixel XL
understood all 800 of the questions asked. Siri misunderstood 11 queries while Alexa and Cortana missed 13 and 19, respectively. Google Assistant won four out of the five categories (Local, Commerce, Navigation and Information) while finishing second in one of them. Siri placed second in four categories, topping Google Assistant in Command. Alexa was all over the place with a second-place finish (Information), three third-place finishes (Local-tie, Commerce, Information, Command) and wound up last in one category (Navigation). Cortana was ranked last in three categories (Commerce, Information, Command), and finished third twice (Local-tie, Navigation).