Google offices raided in Korea over antitrust concerns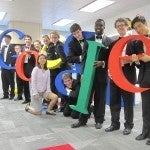 Google's office in Seoul , Korea
was raided by the Korea Fair Trade Commission
. The Commission is investigating Google to see if the tech titan is using Android's leading marketshare to give its search engine an "unfair advantage" over third party search engines in the Android operating system. The complaint against Google comes from two Korean internet companies, Daum Communications and NHN. They are the same two companies that made so much noise complaining against Google that the
company had its offices raided in Korea last September
.
doesn't require manufacturers using Android to include Google search or Google applications
. Heck, why not send the Korea Fair Trade Commission an Amazon Kindle Fire? There recently has been talk of an Android smartphone hitting the market this year
without Google applications
. In addition to the charges, the KFTC also says that Google has been deleting sensitive documents during the raid. For its part, Google says it will continue to cooperate with the government.
For some reason, Google can't seem to convince overseas regulatory agencies that it doesn't demand the use of Google branded search or apps in order to use Android. For example, Google has until July 2nd to
respond to similar charges made by the European Union Competition Commissioner
.
source:
AllThingsD
,
CNET