Despite loss of three key chip designers, Google still plans on making its own SoCs eventually
2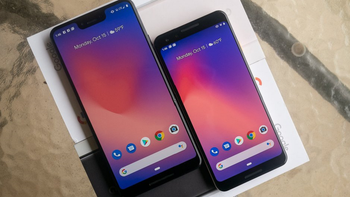 Back in June 2017,
Google hired away chip designer Manu Gulati from Apple
. Gulati had a big part in creating some of the chips used to power the Apple iPhone and iPad, and he said on his LinkedIn listing that Google had hired him to be "lead SoC architect."
According to The Information
, Gulati and two other chip engineers, John Bruno and Vinod Chamarty, have recently left Google. Not all three came from Apple, as Chamarty joined Google from Qualcomm.
All three did have backgrounds in designing central processing units (CPUs) and SoCs. Gulati's hiring, in particular, was seen as
an attempt by Google to build its own chipset for the Pixel line
. This would have allowed Google to customize such a chip and compete with the Apple-designed chipsets that power the iPhone. However, Google has apparently yet to start designing its own CPU; instead, it has been working on chips with limited capabilities designed for specific features. These types of chips are cheaper and easier to build. This team has designed a special processing chip that enhances imaging for Pixel handsets called the Pixel Visual Core and a special security chip for the Pixel 3 series.
Building CPUs and Socs could still be in the company's future, but designing such components takes plenty of time and requires large teams. Thus, Google is still advertising for chip engineers. For the being through, the company will most likely hold off on doing this for its higher-end Pixel devices and concentrate on building chips for less complex non-mobile hardware. Since Google doesn't build as many phones as Apple or Samsung, the investment needed to build its own CPUs for the Pixel line might not be worth it.
Google builds a chip team in India

Even though Google is chasing Apple, the latter was a hardware company from its first day, unlike Google. And Apple didn't get into the chip business until it purchased P.A. Semi back in 2008 for $278 million. It took Apple about two years to design its first CPU, the Apple A4, which debuted in the OG
Apple iPad
. Designed by Apple, the SoC was manufactured by Samsung and was also used to power the
iPhone 4
and the
iPod touch 4th generation
model. Interestingly, that first chip was manufactured using the 45nm process. Today's Apple A12 Bionic is produced by TSMC using its 7nm process. The lower number indicates that more transistors can fit inside a chip making them more powerful while consuming less energy. The A12 Bionic is arguably the most powerful chipset found in a smartphone today.
Back in February,
Google grabbed 12 microchip engineers away
from companies like Qualcomm, Intel, Broadcom, and Nvidia and set up shop in Bengaluru, India. The plan is to build the unit up to 80 people. Since Google doesn't own a foundry, any chips it designs are manufactured by TSMC. That is the same firm that produces Apple's A-series chips, Qualcomm's Snapdragon SoCs, Huawei's Kirin and Balong modem chips, and many more.
Besides the Pixel phones, other hardware sold by Google includes the Nest Hub Max and Nest Hub smart displays, the Google Home line of smart speakers, the Pixel Slate tablet and the Pixelbook. Even if Google were to design its own processors for these devices, its ultimate goal probably still remains the same. And that is to come up with an SoC that is not only more powerful than the chips available from suppliers but is also customized in a way to distinguish the Pixel line from other flagship phones. Google probably won't consider losing the three chip engineers a major setback since it doesn't seem to have really made any progress so far in developing such a customized SoC.