"Google-less" Android? Here are the open source alternatives you can use instead of Google's apps
14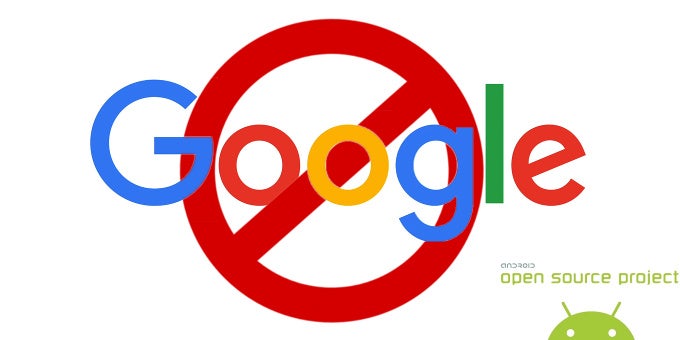 We usually associate Android with Google, and that's perfectly fine. Android is an open source OS that can be freely modified and used by just anyone willing to do so, but having the proprietary Google apps and services, the pushing force behind the OS, is a trickier business. Manufacturers need to
pay
Google before they can be use its "Gapps" (publicly accepted acronym for "Google's apps and services") package.
Due to the fact that the majority of Android apps require an existing Google Play Services framework in order to function as intended, the majority of manufacturers have no other choice but jump on the train. It's also worth mentioning that sans Gapps you don't have native YouTube, Gmail, and other popular Google-made apps, not to mention that you can't access the largest Android app repository - the venerable Google Play Store.
Frankly said, life without Google's backend and apps on an Android device is difficult to imagine. However, it's not impossible. You can use AOSP, the "stockest", vanilla Android variation available out there, without Goggle's or services apps. Additionally, CyanogenOS technically allows you to make full use of your Android device without the necessity of signing in with a Google account.
But apps to use instead of Mountain View's ones? Well, we are about to show you some open-source alternatives to Google's apps that are available on F-Droid, one of the larger third-party app repositories. Without further ado, here are the alternatives to Google Apps you can find straight on F-Droid.
F-Droid - Google Play Store alternative
We already mentioned this one - it's the go-to open-source alternative to the Play Store. It's a rather important prerequisite if you want to easily install open source apps on your device and keep them up-to-date. Of course, as with any open source software, you're not obliged to install it, as you can manually download and install the apps that it comes with. Still, we advise that you use it, since it keeps everything in spic-and-span condition. F-Droid functions a lot like the Play Store - you can browse, view, download, and install any of the available apps. All of the apps adhere to the FOSS (Free and Open Source Software) guidelines, which means that they are both free and open-source.
DuckDuckGo - Google Search alternative
By installing the official DuckDuckGo app for Android, you can easily search the web in a more private fashion. As you have probably heard, DuckDuckGo is a search engine that puts emphasis on users' privacy and not fancy features. It doesn't track search queries and is said to provide all users with the very same search queries. As far as the open-source DuckDuckGo app for Android is concerned, you will be presented to a news aggregator upon launching it.
Of course, searching the web is the main dish on the menu, enabled by a search bar at the very top of the app. What's more, you can choose whether to use an external browser along with DuckDuckGo or not. Last, but not least, the app allows you to make use of the Tor network and surf the web anonymously. You'll need
Orbot
, an open-source proxy app, though.
NewPipe - YouTube alternative
This open-source client for YouTube allows you to watch videos without having Google's Play Services installed. The app is fairly reminiscent of the original YouTube one, with a similar shade of red throughout the interface. Speaking of the interface, it's moderately intuitive, though not quite feature-rich, but the basics are covered. Some of the nicer features we stumbled upon were the option to download a certain video or audio straight to your device, though this feature only worked on 3 out of 10 videos we tried.
OsmAnd - Google Maps alternative
There are a number of free alternatives to Google Maps available for Android, with one of the more notable being HERE Maps, but the open-source OsmAnd is certainly a noteworthy option. It's following the Material Design guidelines to the letter and sports a fairly simple user interface, but let's get back to the important bits. Apart from a basic global map, OsmAnd allows users to download maps for almost all countries across the globe, which have to be snatched manually. There's a silver lining, though - once you download a map for a certain region, you can navigate in the area even if no internet connection is available at hand. Turn-by-turn navigation is also on board.
Mitzuli - Google Translate alternative
Thanks to this app, offline translation between a large combination of languages is available. The app is fairly feature-rich, with voice input, automatic speech recognition, camera input, and text-to-speech voice output being staple features. Despite that certain rather important language combos are missing (German being the most major omission), Mitzuli is a rather nice alternative to Google Translate.
K-9 Mail - Gmail alternative
True, AOSP comes with a pretty basic email client that does the job, but K-9 Mail also deserves a mention due to the fact that it supports more mail providers than its AOSP sibling, it's also extremely feature-rich. It's a viable alternative to the stock AOSP mail app that should be given a chance if one is striving for a Google-less Android device.
Syncthing - Google Drive alternative
Syncthing is a cross-platform peer-to-peer file sharing service that allows you to securely sync your files between different workstations. Apart from an Android app, Syncthing also supports Linux, Windows, Mac OS X, FreeBSD, Solaris, Dragonfly, BSD, NetBSD, OpenBSD, but sadly, not iOS. All data sync connections are touted as being fully encrypted and not stored on any centralized server, neither cloud-based nor physical. Syncthing doesn't need you to meddle with IP addresses or other complicated settings; it automatically assigns users' devices with unique IDs, which allow you to share your files around with said ID, no complications.