Google launches Sound Search widget for Google Play
10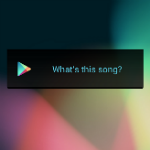 One of the more recent additions to Android has been the new Sound Search widget for Google Play, which works just like many other music tagging apps such as Shazam, or SoundHound. Of course, Google's option hooks into the Google Play Store, making it easier for Android users to buy new music. Now, Google has released a Sound Search widget into the Google Play Store.
This widget actually leaked back in August under the name
Google Ears
, and Android
4.2
users will recognize the widget, because it is one of the few options for the lockscreen widgets in the newest version of Android. However, the new widget that has been released into the Play Store is available for any Android device running 4.0 or higher, so that at least covers close to a third of the Android ecosystem at this point.
Possibly the best feature of the Sound Search widget is that, much like many other Google apps, it syncs across your device. So, you can tag a song on your phone while you're out and about, then purchase that song on your tablet when you get home.
If you want to give it a try, the Sound Search widget is available for free in the
Google Play Store
.