Google files patent for back panel touch controls
38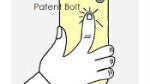 A while ago, Google realized that it wasn't making too much headway in trying to get patent law changed, or getting silly patents invalidated, so the company did the only thing that was left: it started trying to patent its own "innovations" which were probably just
logical conclusions
based on existing work (you know, like 99% of all patents). Well, it looks like Google newest filing is a patent application for back panel touch controls.
Before we even bother to explain the text of the patent application, we'll describe it in terms of "prior art", that silly devil that is supposed to invalidate patent applications, but often doesn't for some small reason.
The patent application is basically for the touch panel that you'd find on the back of a PlayStation Vita
.
Of course, it's possible that this patent will be found "unique" because Google's application is for a touch panel on the back of an Android smartphone or tablet, that will allow you to perform various functions (turning an ebook page, media controls, etc), and more importantly can distinguish between normal holding contact and touches intended to control the device or app (which sounds similar to Apple's iPad mini thin bezel tech.)
Not surprisingly, Apple filed a similar patent back in 2006, before the iPhone even existed, but that patent was never approved, so maybe the USPTO won't bother with this one either (fingers crossed!)