Google fails to settle with Oracle over Android, getting grilled on the Hill for antitrust issues today
55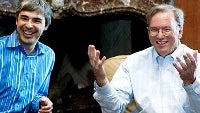 Google's CEO Larry Page and Oracle's head honcho Larry Ellison sat yesterday in the same room, trying to reach a settlement agreement before they go to trial over purported Java code copied directly into the Android source code. Google stopped denying this is exactly what happened, but
claims the damages caused are not in the realm of billions
, as Oracle insists, but rather something in the $100 million ballpark.
Obviously the meeting, mediated by Judge Paul Grewal, turned into a game of wolf eyes, but nobody blinked, so the talks will continue again today, with the hope to avert a full-blown trial. If Google is forced to start paying royalties, this could be another blow to Android as a free and open mobile OS, after Microsoft already managed to wrangle up to
$5 payment from HTC for each Android phone it sells
.
Google's other main man, Chairman Eric Scmidt, on the other hand, will be fending off criticism during a Congressional hearing today, which has antitrust and privacy issues as a topic. Rivals like Expedia, Nextag and Yelp are gunning for a lawsuit to coincide with the hearing, saying that Google is unfairly pushing up its own results. We feel for Expedia, since the free Google Flight Search just launched in limited beta, powered by the $700 million ITA acquisition, but if the folks at Mountain View feel they are doing a superior job, it would only be natural to list their results first. After all, when you type a flight search into Bing, it returns its own Bing Travel results first.
We'll keep an eye what comes out of the Congressional hearing, but we've seen a number of those, including with Hank Paulson and Goldman Sachs during the financial crisis, and nothing major came out of it, while these guys had done much worse things than Google favoring its own services.