Google explains the meanings behind the Pixel C, Nexus 5X and 6P names
17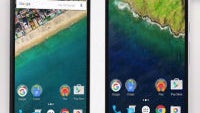 Earlier today a member of the Google team tasked with producing the new Nexus devices, Hiroshi Lockheimer, took on a Reddit Ask Me Anything (AMA). The first interesting bit of news to come from that session was the reason why Google decided to
leave out wireless charging
from the new handsets, and now we also know what the 5X and 6P names mean.
According to Lockheimer, the X in Nexus 5X is to signify that the device is the "core of the Nexus brand" (not to mention the core of the word Nexus). Lockheimer didn't expand, but we'd guess he was referring to the fact that Nexus devices have traditionally aimed at being great all-around devices, not necessarily with the best specs, with the pure Google experience at a reasonable price point. Lockheimer also said the P in Nexus 6P means "premium", and the C in Pixel C means "convertible". Those are pretty easy to figure out given the specs and build materials of the Nexus 6P and the fact that the Pixel C is a tablet/laptop combo.
We'd say the names are something of a letdown, but frankly there was no reason to expect anything bigger behind the names. It's not like we expected the names to come out as 5X to symbolize the original five members of the X-Men or anything like that. The best we figured was 6P would be for "plus" or "phablet".
What do you all think of the names?