Google X handset running Android 5.0.1 Key Lime Pie trickles to AnTuTu benchmark scores
25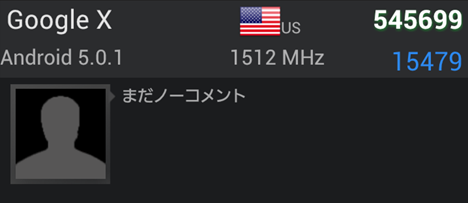 Hey ho, whaddaya know, the mysterious
Motorola X
phone might be called
Google X
, after all, just like the devices in the Nexus line, if alleged AnTuTu benchmark screenshot is to be believed.
Don't read too much into it, as these can easily be manipulated, but there have been enough rumors and internal tips that this device is brewing somewhere in the Motorola labs, directly developed with Google, for the rumor to have legs.
While the benchmark score is decent, yet not Snapdragon 800-worthy, since it's likely been taken with a test version, we are more interested in the confirmation that the device is running Android 5.0.1 Key Lime Pie, as the benchmark suggests. Given the recent rumors that KLP won't be introduced at the Google I/O event next month since a lot of manufacturers are falling behind with their Jelly Bean updates still, the Google X phone release, or whatever it gets named in the end, might indeed be delayed "for August or later", as
our inside sources also tipped not long ago
.
What do you think, a GX abbreviation for Google's best Motorola effort this year just rolls off the tongue, doesn't it?