Google Wallet coming to Gmail so you can send payments easily
1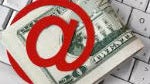 This probably sounds familiar, right: you can send money with just an e-mail address! That's been a slogan of PayPal since it first launched, but PayPal suddenly has some competition in the form of Google Wallet and Gmail geting together. Google announced today that it has integrated Wallet with Gmail so you can now easily send money through your e-mail just like an attachment.
In order to use the service, obviously you'll need to be signed up for Google Wallet. Then, when you're composing a message in Gmail, you'll see a new "$" symbol alongside the options for text formatting and attachments. If you have a bank account added to your Google Wallet, or you have a balance in your Wallet account, you'll then be able to use that to send money to anyone you'd like. The recipient will need to sign up for Wallet to accept the money.
Google will charge a slightly lower fee than PayPal for the transfer. PayPal charges 2.9% plus 30 cents, whereas Google's fee is a flat 2.9% with a minimum fee of 30 cents. You can send up to $50,000 per 5 day period too, if that sounds like something you might want to do. And, of course you are 100% protected against unauthorized transactions.