Meet Google Reply: smart message replies straight in your notifications shade
1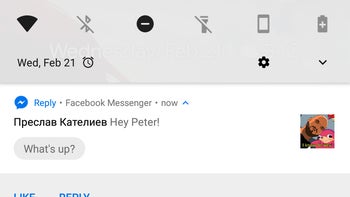 Google has a new app for Android, and it is essentially a feature that you'd expect to see baked into a future Android iteration on the system level.
The app is called Reply and it introduces smart contextual replies for any messaging app that allows you to reply directly to inbound notifications. Let us explain. When you normally receive a text over Hangouts, Facebook Messenger, Android Messages, Skype, or Slack, you can reply to the message straight from the notification shade of your device; Google's Reply sort of 'hijacks' this feature and instead provides you with a couple of contextual smart reply options that you can simply tap to send. In our experience, the message options are not only often on spot, but also include quite a bit of sass in them, which makes them look that much more human-like.
A teardown of the APK file has also revealed that in the future, Reply will probably be supported by the following popular apps:
Google Allo
Blackberry Messenger
Facebook
Instagram
Kakao
Signal
Telegram
Wechat
In case those smart replies sounds familiar to you, they absolutely should - they were first introduced in
Google Allo
and were one of the best features of Google's latest messaging app. Again, it almost looks like this whole smart reply functionality could have easily been a minor feature of a future Android build, but we guess bundling it into a separate app right now could potentially widen its reach to a whole wider audience in comparison with throwing it inside a slowly-trickling Android version that will become mainstream in 2020 in the earliest.
At the moment, Google Reply is not on the Play Store, but it could be sideloaded by following the link right below.