Google Play to make tablet-optimized apps more visible starting November 21
6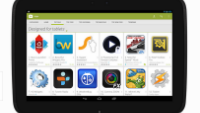 There is a lingering perception that Android tablets have no apps available for them. This is incorrect, and Google wants to prove it. The company has already been promoting apps that have been optimized for tablets; but, Google is going to take the next step in the Google Play store to give apps designed for tablets better visibility to users.
Last year, Google released a list of criteria for an app to be considered "designed for tablets", which it has used to display that special section to users. But, on November 21st, Google is expanding the criteria to all sections of the app store. So, apps that meet the "designed for tablets" standards will be displayed first in all Google Play sections including all of the top lists (Top Paid, Top Free, Top Grossing, Top New Paid, Top New Free, and Trending).
Google isn't just promoting tablet optimized apps, but shaming those who don't optimize. Any app that doesn't meet the tablet standards will be branded with a "designed for phones" tag for users who are viewing Google Play on a tablet. To help developers meet these standards, Google has added a tablet optimization checklist to the Developer Console. On the consumer side, this should give users the best experience possible by pushing apps that aren't tablet optimized into the background.