Google Play comes to ChromeOS: All Android apps will work on a Chromebook
38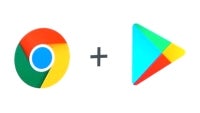 On day two of Google I/O 2016, a big line formed outside "Stage 8" for the anticipated announcement behind the session titled,
Coming to a Chromebook Near You
. The buzz has been that everything available in Google Play would achieve full functionality in ChromeOS.
That is a big deal, one million applications are coming to ChromeOS, a massive ecosystem of apps and media to what has always been a browser-driven operating environment.
While that has helped Chromebooks earn raves for being able to start-up at lightning fast speed, and operate quickly, functionality has been limited by the fact that everything had to run within a browser. Every "app" is essentially a browser plug-in. That made ChromeOS itself highly secure, but also made it a desktop operating system virtually devoid of any applications in any sense of the word.
The Chromebook team worked with the Android team to take advantage of innovations in enabling the Android environment work within the ChromeOS "container." Since Chromebooks are running desktop class hardware, the Android apps consume virtually no overhead, the user experience is consistent, and the environment is secure.
One thing the Google teams were quick to point out was that this was not ChromeOS rendering the Android environment, it was running the apps fully. Google Play operates the same way we would use it on our smartphones and tablets, with the ability to download and store media for offline use. Android applications work the same way.
For the enterprise, or the educators, this feature is manageable through the Chromebook management console, allowing whatever level of control desired by enterprise/school. Essentially, this is having your cake and eating it too. For those hoping to see this feature come to the Chrome browser, no such luck.
Any Android application is compatible, including the Office suite of apps from Microsoft. This changes things significantly. Chromebooks have typically had a much lower price-point, limited by the software. However, this changes the cost model for students, small businesses, anyone really. If you need the ability to just "use" Microsoft Word, and you do not use all the Reference and Review features, Word for Android works – just like any resident app on the Chromebook. Have a photo you want to edit or modify? Use Photoshop Mix, and the world is yours to create.
This is a win not only for ChromeOS, but also for developers and users. Google Play and its million applications will be available via the Chrome Developer Channel with the M53 release in a few weeks. Expect a full rollout later this summer.