What'd you spend your money on: Google Pixel 3 or LG V40?
25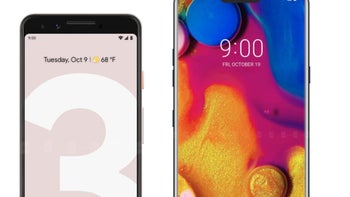 LG's V40 is the company's latest top-shelf smartphone, which quickly got a $200 discount while still in pre-order stage. Yeah, LG's phones haven't been great at holding their price in recent years, which is great for the customer really. They are not bad devices and can be a good deal after s price drop, they are just maybe not entirely up to par with the high-tier competition.
So, you can now buy the
LG V40
with its grand total of 5 cameras
for $750 unlocked
. That's $50 below the starting price of the "small"
Google Pixel 3
!
What's the same, what's different... let's see, the LG V40 has a huge 6.4-inch screen, the Pixel 3 sports a more modest 5.5-inch screen. The Pixel's Google Assistant can be called up simply by squeezing the phone, the LG V40 has a dedicated button on the side to do that. The Pixel has front-firing stereo speakers, the V40 still only has one speaker, but it does sound good and can be enhanced with LG's Boombox technology.
The Pixel rocks pure, clean Android, LG's take on the software is entirely re-skinned and redone. Both devices, however, have excellent haptic feedback, which is a rarity in the Android scene and we certainly appreciate it. The V40 has 3 cameras on the back, combining telephoto, wide-angle, and super wide-angle lenses, while Google does it all with just one camera on the back.
So, which one do you figure is more your taste?