Google Nexus 7 was planned to have a rear camera
10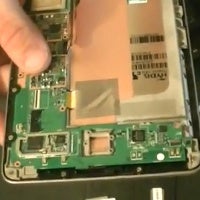 The
Google Nexus 7
tablet arrives with an extremely affordable $199 price for the basic 8GB model, and one shortcut Google had to take to arrive at that is the rear camera - the 7-inch tablet doesn't have one, instead it only features a front-facing cameras fit for video calls but little else.
That shouldn't be a dealbreaker for most of you since shooting pictures with your tablet might not be the best idea, but interestingly it seems that Asus and Google initially planned to include a rear camera. Or at least the whole design is built around that idea. Or Asus just used a previous design.
In either case, there is an empty spot for where the camera should have been placed with all the connectors, but... no camera. It's all evident in a detailed unboxing by XDA Devs - the camera part starts at around the 5:30 mark, so check it out below.
via
PocketNow