Google Nexus 7 hands-on
27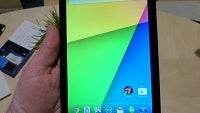 With the leaks that came out ahead of the official announcement, one could argue that Google's thunder was stolen, and from a standpoint of understanding the specifications, pricing and availability, that is true.
However, there is "knowing" and then there is "holding it in your hands" which makes all the difference in the world. The new Nexus 7 is a great tablet to behold. We know that full HD displays are becoming commonplace, but the screen on the Nexus 7 is simply stunning.
Moreover, one also really appreciate the stock Android experience when it is paired with powerful underpinnings. The quad-core Qualcomm snapdragon processor has absolutely no problem handling Android 4.3 and while it does not bring a super laundry list of changes, some features are no doubt going to be welcome, like solid battery performance courtesy of Project Roadrunner.
The Nexus 7 goes on sale next week, starting at just $229 for the 16GB model which is a fantastic price for the hardware involved.