Google Music 4.0.1 leaks out: heralds the new Android looks
11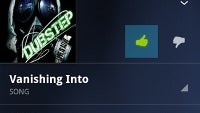 Google and Samsung might have pushed their October 11th event
to the end of the month, but the latest version of Android they were going to unveil, Ice Cream Sandwich, continues leaking out from all possible sources. This time, it's not the platform itself, but the
Google Music app
, which has appeared in its 4.0.1 version introducing a different, much cleaner UI and some improved controls.
The difference is clearly seen when compared to the current, 3.0 version. First, the overall design fits much better the neon Tron-like concept, which has first appeared on Honeycomb, and now makes its way into Android 4.0 Ice Cream Sandwich. Everything is drawn in minimalistic style, and the bottom strip of the player takes up less space.
The context menu now appears just below the selected item instead of right in the center as before. The ticker for making a track available offline has been moved away from that menu.
Probably the most interesting changes have happened in the player itself when its active. When playing a song, you'll now see a much bigger version of the album art. There is a tiny strip below it where you can fast forward through songs. The search button in the top right is also a welcome addition.
The new 4.0.1 Music app allows you personalize your listening experience. How does that happen? You can like or dislike a song, which would affect your listening, a neat way to vote your favorite songs, and one which seems to be borrowed directly from YouTube.
Overall, it seems that Music 4.0.1 doesn't revolutionalize the music application in Android, but rather builds on the experience. It adds a couple of minor but nice touches, to make it all fit nice in the new Ice Cream Sandwich looks. How do you like it?