Google Maps expands voice navigation commands
0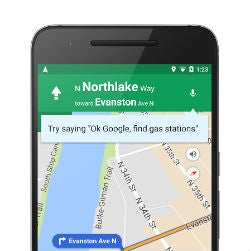 Google often talks about how it wants to make any app you use in your car the safest possible, which means less time looking at the screen and more time looking at the road. The simplest way to make that happen is with hands-free voice controls, so Google is greatly expanding the navigation commands available by voice in Google Maps.
Google Maps had previously offered up a limited selection of voice commands while the app was already navigating, including voice commands to find a nearby gas station or how long you had left on your route, but now there is a ton more to be done. You'll still use the "OK Google" trigger phrase, but after that you can also say:
"Mute/Unmute voice guidance."
"Show/hide traffic."
"Show/hide satellite."
"Navigate to [place]"
"Show route overview." or "Show alternate routes."
"What road is this?"
"What's my next turn?"
"What's my ETA?"
"How's traffic ahead?" or "How's traffic to home?"
"Avoid/enable tolls."
"Avoid/enable highways."
"Avoid/enable ferries."
"Exit navigation."
"Call Mom."
"Find [place]"
"Send a text to [contact]"
"What's the weather like?"
"Play [music]"
"What's the closest hotel?"
"When's my next meeting?"
That's an in-depth list that should cover most, if not all of what you might want to do while driving. The update is a server-side toggle, so it is rolling out to users now, but it may take a couple days to hit your specific device.
Let us know below if you're seeing the new commands available for you.