Google Maps does work on Windows Phone's Internet Explorer browser according to video
56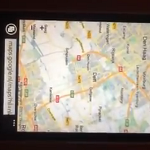 On Friday, there was some contention about whether or not
Google had purposely blocked the mobile web version of Google Maps on Windows Phone
. The explanation that finally came out of Mountain View was that the site had been developed for WebKit browsers, like Safari and Chrome, and would not work on Internet Explorer. Thus, Google was supposedly being altruistic by blocking the app from Windows Phone.
"The mobile web version of Google Maps is optimized for WebKit browsers such as Chrome and Safari. However, since Internet Explorer is not a WebKit browser, Windows Phone devices are not able to access Google Maps for the mobile web."-Google
To test that theory, Tom Verhoeff went into his phone and changed the user agent string from Windows Phone to Android, tricking the Google Maps application into thinking that it was going to run on an Android device when in reality, it was going to
run on a Windows Phone
model on Internet Explorer.
Mozilla/5.0 (Linux; U; Android 2.3.4; fr-fr; HTC Desire Build/GRJ22) AppleWebKit/533.1 (KHTML, like Gecko) Version/4.0 Mobile Safari/533.1-user agent used to run Google Maps on Windows Phone
As you can see from the video below, not only was Google Maps functional on Internet Explorer, it also smoothly supported pinch-to-zoom, scroll, and was certainly responsive to touch. So once again, we are left to conclude that Google does not want to play nice with Microsoft.
source:
TomVerhoeff
via
WMPoweruser