Google Home gets a ton of new actions for news, health, and ordering pizza
5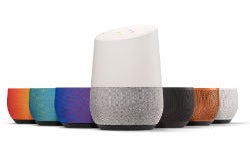 Google didn't announce its developer tools for Actions on Google too long ago, but it had obviously been working with key partners to have goodies ready for Google Home users soon after that announcement because there are a bunch of new actions available. Now, you can have a conversation with Home and get services from big names like Food Network and NPR.
To use these new Actions, you'll start by asking your Google Home to "talk to" or "ask" different services for info. This means you can say "OK, Google, ask CNBC for the latest headlines" and get a news update. If CNBC isn't what you want, you can also ask NPR, the Wall Street Journal, HuffPost, NBC News, or VentureBeat for news. You can talk to WebMD if you want to make sure that your headache won't kill you. You can order a pizza from Dominos, get recipe help from Food Network, or drink suggestions from The Bartender; manage tasks with Todoist or Wonder; get movie or TV recommendations; learn Spanish; or play various games.
There are a lot of options already and you can find the whole list and how to activate them in the Settings tab for your Home device in the Google Home app. However, we're curious how often many of the Actions will be used. The value of asking for news headlines makes sense, but the games feel more like a gimmick that you might pull out rarely to show people what Home can do. The so-called "psychotherapist" Eliza is little more than a dumb chatbot that you might have found on the early web. Still, as a first set of Actions, it's pretty impressive and shows a lot of promise for the future of Google Home.